Rentals
Bench Scales
Our bench scale rentals are available in a variety of sizes and capacities. These smaller size scales allow them to be conveintly moved and setup where needed throughout your facility. All of our bench scales are NTEP approved and certified prior to each rental.
---
Floor Scales
Floor scales are available in two different platform sizes, 36" x 36" and 48" x 48". These low profile designs have a capacity of 5,000 lbs. Please consult if a custom size or capacity rental scale is needed for your application.
---
Truck Scales
Our truck scale rental fleet consists of self contained portable truck scales. These scales are equipped with factory single guide rails, digital indicator, printer and transient protection. Setup, freight to and from your jobsite and onsite calibration is included in our rental program. DOT compliant software, gravel/waste/recycling/custom application softwares, remote displays, steel ramps and other peripheral equipment are also available. Please consult if special sizes or capacities are needed for your application.
---
Test Weights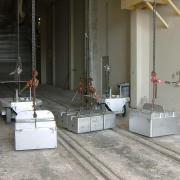 Test weights rentals are available for a wide variety of testing needs. Common test weight rentals include: overhead crane capacity testing, crane capacity testing, loader scales testing, structural integrity tests. Individual and combination weights are available for rent. All test weights are traceable to NIST and certified yearly. Please consult for your specific test weight rental needs.